Mr. Bhagwant Singh Batth, Member ICCRC-R407679
Federal Skilled Workers And Work Permits
Federal Skilled Worker
Skilled workers are chosen as permanent residents based on their ability to contribute to the Canadian economy. We are here to help navigate the Express Entry program and help determine which stream best suits you and your dependents.
Work Permits and LMIA (Labour Market Impact Assessment) Approvals
(Canada only)
We are here to assist your potential employer in obtaining the Labour Market Impact Assessment (LMIA) (a document proving there is a need for a foreign worker to fill the job). This document will allow us to help you apply for a Work Permit.
A business visitor is someone who comes to Canada to engage in international business activities without directly entering the Canadian labour market. For example, someone who comes to Canada to meet people from companies doing business with his or her country.
Applicants can also apply for Permanent Residency under the Business stream. Options include:
• Self- employed,
• Immigrant Investor Venture Capital Pilot Program; and
• Start-Up Visa
We are here to help determine which stream will suit you best.
Business Class


(Visitor & Permanent Resident Base for Manitoba only)
Study Permits
We offer unique immigration services for Masters & Fellowship Streams
Canada has one of the best education systems in the world. We can help you with your post-secondary (after Grade 12) study permit application, which will allow you to study at any recognized institution in Canada. We have special Authorized Agents for Red River College, Manitoba Institute of Trades and Technology (MITT) and University of Fraser Valley.
We also offer a unique service under the Post Graduate, Master of Basic Sciences and the Fellowship stream.
To qualify for Bachelor's you must meet the following qualifications:
• IELTS score 6 or higher (Academic)
• Documents, mark sheets & degrees (if applicable)
To qualify for Masters you must meet the following qualifications:
• 70 % or higher GPA under Bachelor's Program
• IELTS score 6.5 or higher
• Academic stream
For the Master of Sciences stream, you must send documentation for review prior to submitting.



Passports, Visas & Applications
Visitor Visa for Canada and U.S. (all kinds)
We help with both Canadian and U.S. Temporary Visas and Visa extensions.
Canada: Tourist visas, Temporary visa for members of your family or visitor visa for business purposes.
U.S.: B1 And B2 Visas.
Passport Applications (Canada & U.S.)
A passport is a travel document for a Citizen of that country. We help with Canadian passport applications, including new and renewal applications for adults and children. Services for renewing Indian passports are also provided.
Super Visa for parents and grandparents
Allowing parents and grandparents to stay for up to 2 years in Canada per visit with a validity for up to 10 years. We can help with all the details from purchasing Health Insurance to ensuring all paperwork is submitted accurately.
Citizenship Applications
We can assist with your Canadian Citizenship application; provide more information on how you can resume your Canadian Citizenship.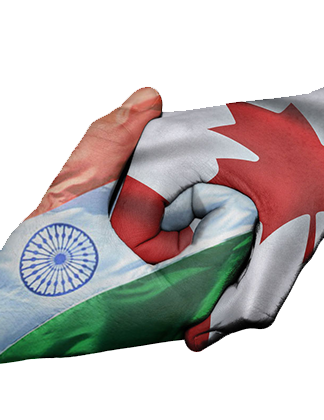 Sponsorships And Nominee Programs

Spousal Sponsorship
If you are a citizen or permanent resident of Canada, we can help you sponsor your spouse, common-law or conjugal partner, or dependent children to immigrate to Canada.
Workers can also bring their spouses with them if certain criteria is met. Please contact us for more details.
Provincial Nominee Program
Provinces and Territories in Canada nominate immigrants through their own Provincial Nominee Program (PNP). We are here to help you determine if you meet certain criteria, such as skills, education and work experience to contribute to the economy of our Province. We can help prepare and submit your PNP applications.
Federal Family Sponsorship
Your family may benefit from the Federal Family Sponsorship stream. If you are 18 years old and over, and are a Permanent Resident or Citizen of Canada, we can assist you to determine if you are eligible to sponsor family members to settle in Canada.
Canadian Government Issued Cards
Overseas Citizens of India (OCI)
The Government of India grants Overseas Citizenship of India (OCI) commonly known as 'dual citizenship' to the Persons of Indian Origin (PIOs) who migrated from India and obtained citizenship of a foreign country other than Pakistan and Bangladesh, if their present country allows dual citizenship in some form under their local laws.
The Constitution of India does not allow holding Indian citizenship and citizenship of a foreign country simultaneously.
We can help you navigate through the application process and monitor its progress.
Free And Secure Trade (Fast Cards)
This is a commercial border clearance program designed to expedite trade while maintaining a high level of safety and security. You can use the Fast card as Identification at land and water border crossings, with little to no wait times. Fast cards are available for both Canadian and U.S. citizens.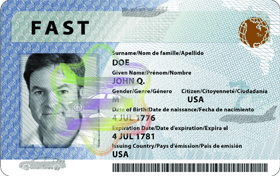 Image Courtesy/Copyrights
Canada Border Services Agency website
Permanent Resident Card
Once approved for Permanent Residency in Canada, you must apply for a Permanent Resident card to use as proof and as a travel document. We are here to assist with applications for:
• initial cards,
• lost/stolen cards; and
• renewal cards.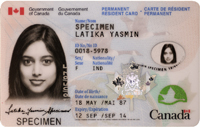 Image Courtesy/Copyrights
en.wikipedia.org